KaraBest. Always smart. Always awesome.
DOWNLOAD ANYWHERE.
In high definition audio and video KTV new songs, suitable for all karaoke on demand player in the market.
HD 1920 x 1080, DVD 720 x 576 & More feature below.
KB CLOUD allow you to download all your favourite karaoke music
videos via your smart device, any where and any time!
No need to sit in front of your home karaoke players and wait for the download. All of our KaraBest karaoke music videos are in HD, no encryption
or compression it is suitable for all the Karaoke HDD players in the town! Now, you can update the new released music videos and songs to your
home karaoke system with a simple step! What are you waiting for? Contact us for more details! We are ready to serve you!
Toll Free : 1300 22288999

現在不需要坐在你的卡拉OK點唱機前等待下載歌曲, 有了KB CLOUD 隨時隨地在任何地點任何地方都能通過智能手機或平板電腦下載最新K歌,
同時也能現場播放你心愛的K哥, KB CLOUD 歌曲沒有通過加密和壓縮, 全高清畫質及原唱者, 適合市面上的任何一款卡拉OK點唱機新歌加入


More Advance features - Pretty Smart Watchlist   
Selected songs of your choice from huge karaoke songs library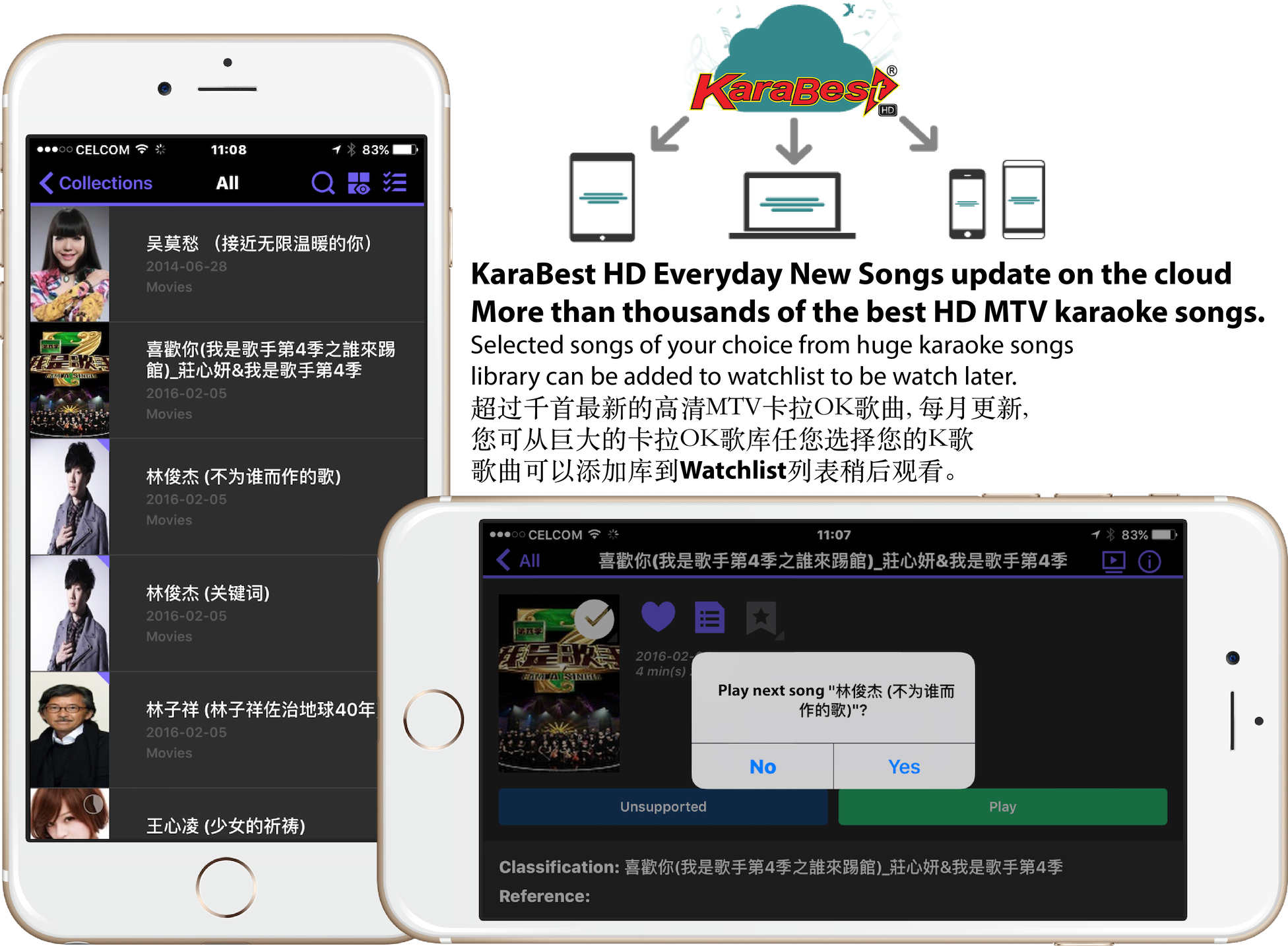 KaraBest huge karaoke songs library
Rule the party from the palm of your hand, your music. your voice.
Yearly Subscription fee RM399 only! LIMITED TIME OFFER.

KB CLOUD server app available to all app stores including Android and iOS


Once submitted your order, you will receive an order confirmation email within 24hrs. The email contain your username and password together with the AppStore links, simply click the "App Downloads" button with free !